6 Reasons Why Ecommerce Is So Important For Your Business | Icanio - Icanio Technologies Main
We Move The Digital
Industry Forward
Why Should You Consider eCommerce for your Business?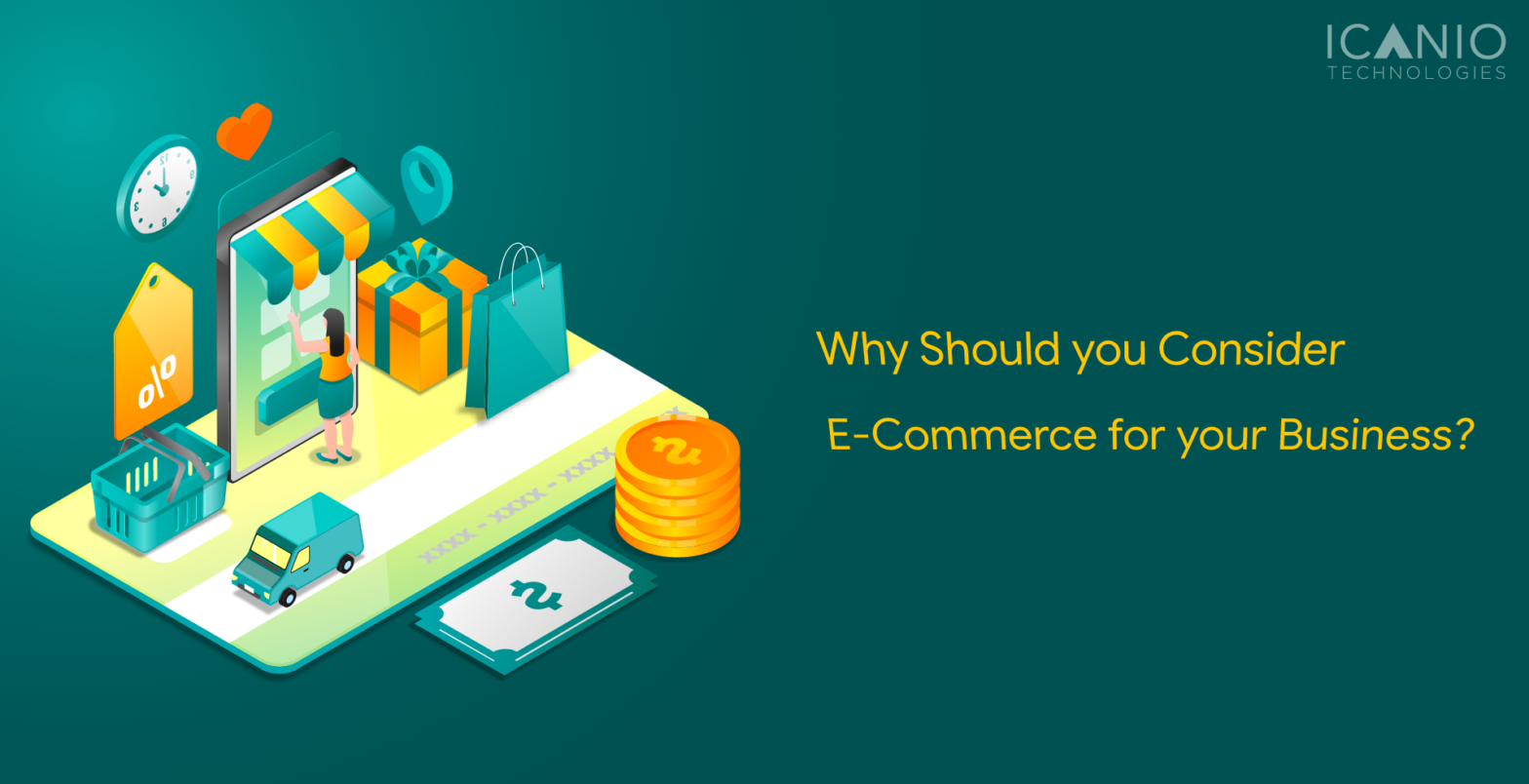 You're right if you believe that nothing can replace the brick-and-mortar experience, for technology doesn't substitute it; it enhances it. The 2020 Pandemic has propelled the progress of technology across sectors, with eCommerce solutions being the most popular. Today, eCommerce has evolved to include immersive content, M-Commerce (Mobile Commerce), and Artificial Intelligence.
With customers habituated to the convenience of online purchases, now more than ever, businesses offering such solutions have experienced the key benefit of 'Dynamism,' which was only spoken about before. Are you still on the fence about investing in eCommerce development? Here are some benefits that should help you make a decision:
Flexibility
Before the worldwide lockdown due to COVID-19, it was difficult to imagine life without the daily hustle. However, technology proved us wrong (How technology will Boost your Business). Brands and buyers alike switched to digital, which allowed all to function from their own homes, and day-by-day, got us hooked onto the convenience it offers. We may all hope and wish for life to return to normalcy, but brands must remember that a lot will have changed then. Even their non-tech-savvy audience, including elders and senior citizens, have amped up their tech skills to survive the pandemic. Chances are, just like all others, they prefer the flexibility of digital.
Management & Maintenance
eCommerce solutions aren't just beneficial for customers; in fact, businesses share a larger chunk of the benefits! How easy and quick would it be to launch a new product/ line and get it noticed on your website? eCommerce allows brands, big and small, to compete on a uniform platform while allowing them to choose from a plethora of tech-advanced features to achieve that coveted edge.
Additionally, maintenance of eCommerce solutions doesn't cost a sweat compared to the budget that brick-and-mortar demands.
Broaden your Scope & Widen your Reach
With an eCommerce website, your operations aren't restricted to a particular area; you could aim to carter nationwide or even worldwide. Technology such as artificial intelligence also allows businesses to gain invaluable customer data and make informed decisions. Further, with prompt and efficient tech-enabled solutions at hand, brands can broaden their scope to promise customers features such as 'Try it on' and 'View the apartment' through 3D content/ AR/ VR.
Scalable
From the person who visits your website to the point where a visitor drops out, you can access crucial information about the functioning of your eCommerce platform. With the knowledge of consumers' likes and dislikes, digital allows businesses to decide product lines and communication techniques. You could promptly and seamlessly switch measures that don't suit consumer behaviour and stay ahead of the trend curve.
Opens a Plethora of Marketing Opportunities
Your physical store may not have the best visibility on street, but you can sure control that for your website! Yes, ranking on the first page of a search engine is competitive, but it's nothing Search Engine Optimization can't do. With the right keywords, tags, content, and maintenance, you could achieve that desired position in a day! Furthermore, a website/ eCommerce solution is easily promotable through social media, email, or digital advertising.
Communication
In the brick-and-mortar setting, you would only communicate with customers once they walk in, but digital includes convincing a customer to visit your eCommerce/ M-Commerce store. Think about all the notifications you get about items in your wish list or announcements about new launches/ discounts. Adding such solutions to your business model will allow you to clearly reach out to customers and stand out in the clutter.
Furthermore, you could use the data collected through eCommerce for email/ phone marketing.
To sum it up, digitally upgrading a business model is a step towards the future. Gone are the days when eCommerce simply meant building a website with product descriptions; it is gaining momentum as M-Commerce, for people prefer the ease of a smaller 24/7 accessible screen. And in this competitive environment, small and big businesses alike fight for space as applications on our phones.
To stand out in the cacophony, brands must build a comprehensive eCommerce plan with M-Commerce facilities through apps and unique content through immersive features.
SIMPLE, EFFICIENT AND COST EFFECTIVE SOLUTIONS - REACH US